The U.S. House of Representatives will hold a historic vote on Wednesday to impeach Donald Trump, the 45th president of the United States, for abuse of power and obstruction of Congress.
The vote is happening the day after nationwide pro-impeachment rallies took place Tuesday evening. Americans remain deeply divided over whether Trump should be removed from office over his dealings with Ukraine.
House Democrats have successfully fallen into line over the past week, with members from Trump districts announcing their support for the articles of impeachment—despite fears their vote could endanger their seat in 2020.
On the eve of Wednesday's vote, Trump sent a scathing six-page letter to House Speaker Nancy Pelosi (D-Calif.), a document riddled with inaccuracies and grammatical errors. The letter read with frustration coupled with annoyance, similar to that of the president's daily tweets. It was described by Pelosi to CNN as "really sick."
In the letter, the president accused the Democratic leader of deploying a "false display of solemnity" and "scarcely concealing your hatred of me, of the Republican Party, and tens of millions of patriotic Americans."
"More due process was afforded to those accused in the Salem Witch Trials," Trump said.
"You are offending Americans of faith by continually saying 'I pray for the President,' when you know this statement is not true, unless it is meant in a negative sense," Trump continued. "It is a terrible thing you are doing, but you will have to live with it, not I!"
In a letter to her Democratic colleagues, Pelosi said, in part: "[T]he President abused his power for his own personal, political benefit and that he obstructed Congress as he demanded that he is above accountability, above the Constitution and above the American people…If we do not act, we will be derelict in our duty."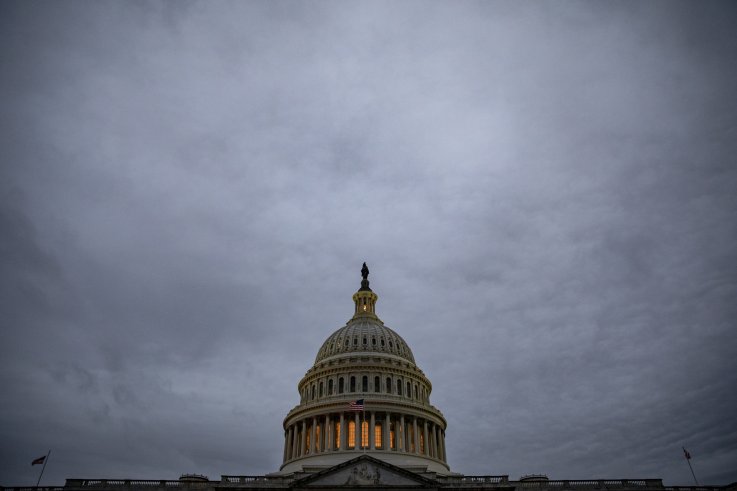 Expect cheers and jeers
On Tuesday evening, after hours of debate, the articles went through their final procedural process. The House Rules Committee outlined how the articles will be debated on the floor, which will occur over roughly six hours that will be divided equally between Republicans and Democrats. Expect the remarks to be both cheered and jeered as members of Congress make their final passionate arguments concerning Trump's alleged wrongdoing with Ukraine.
The final vote on the articles are predicted to occur sometime between 6: 30-7: 30 p.m., according to the office of House Majority Leader Steny Hoyer (D-MD).
Final vote prediction? Two (and a half) Democratic defectors
Two Democrats are projected to break party rank to join Republicans in voting against the articles, in addition to a partial defection from a third Democrat, who's expected to only support one of the two articles.
Reps. Collin Peterson (D-MN) and Jeff Van Drew (D-NJ), the same two Democrats who voted not to launch the House's impeachment inquiry, are expected to vote against both articles. Peterson has served his district for 28 years, but Trump won it in 2016 by nearly 31 points. Van Drew is a freshman Democrat, but he plans to switch parties and become a Republican in the near future. Trump won his district by almost 5 points.
Rep. Jared Golden (D-ME), also a freshmen Democrat and whose district Trump won by 10 points, said he will only vote yes for the abuse of power article. He is expected to vote against the obstruction of Congress article.
Justin Amash (I-MI), a former Republican who became an Independent earlier this year due to his pro-impeachment stance, is expected to support both articles.
No Republicans are predicted to defect and support either of the articles.
What's next?
Before the Senate can proceed with a trial, which is expected to occur in the new year immediately after Congress returns to Washington from the Christmas recess, the House still has two tasks to complete:
First, the House must officially send the approved articles to the upper chamber, a process that Democratic leadership could delay in an attempt to gain leverage over negotiations with Senate Majority Leader Mitch McConnell (R-KY) about rules outlining how a Senate trial will operate. McConnell has so far denied Democrats' demands for certain impeachment witnesses to testify during the trial, including former National Security Adviser John Bolton and acting White House Chief of Staff Mick Mulvaney, who the White House also prevented from interviewing with House impeachment investigators.
However, House Democratic leadership has indicated that they will not delay the delivery of the passed articles to the Senate.
The second is that Democratic leadership will need to determine which of their members will be appointed impeachment managers to argue the case to senators that Trump should be convicted and removed from office.
Rumors have swirled on Capitol Hill that some Democrats would like to see Amash become an impeachment manager. However, no official decisions have yet been made about any potential choices.
Following the passage of the articles on the House floor, Judiciary Committee Chairman Jerrold Nadler (D-NY) has the ability to offer a resolution appointing and authorizing impeachment managers.