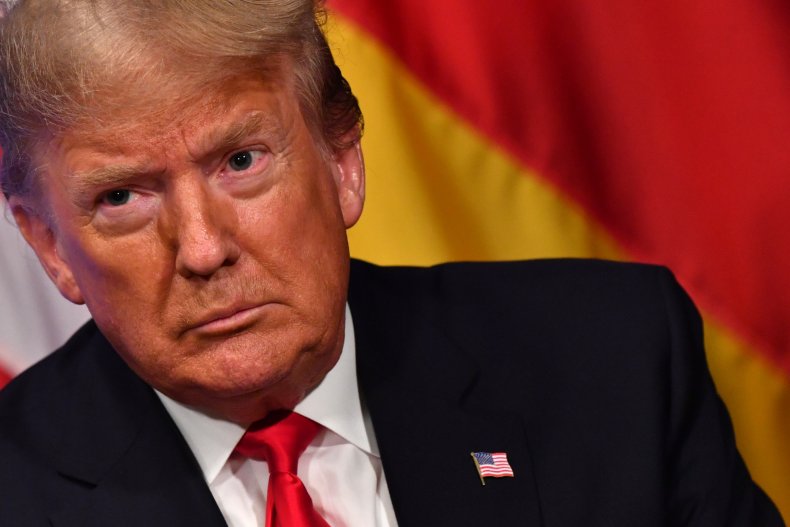 President Donald Trump said Wednesday that concerns regarding his personal lawyer Rudy Giuliani's phone call logs are "no big deal."
Speaking at a bilateral with German Chancellor Angela Merkel during the North Atlantic Treaty Organization (NATO) meeting in London, Trump appeared unconcerned when pressed about the recently released House Intelligence report containing the call logs. The report indicates that Giuliani made several calls to associates including Devin Nunes, the ranking member on the House Intelligence Committee, as well as Fox News host Sean Hannity and an unknown person with the phone number '-1.'
Vox journalist Aaron Rupar shared a video clip of Trump's remarks.
In the clip, one can hear a reporter, who is out of the frame, ask the president if he had any idea as to why Giuliani would need to make the calls recorded in the call log.
"I really don't know," Trump answered. "You'd have to ask him. Sounds like something that's not so complicated. But you'd have to ask him. No big deal."
Giuliani, the former mayor of New York City, has been accused of making calls related to removing former ambassador to Ukraine Marie Yovanovitch from office and asking the president of Ukraine to investigate Trump's political rival, Democratic presidential candidate Joe Biden and Biden's son Hunter. Hunter Biden had previously served on the board of Burisma Holdings, a Ukrainian natural gas company.
The records of Giuliani's phone calls, as reported by the New York Times, show that through the spring and summer he was in contact with the White House as well as a number of officials and associates—including Nunes and Hannity.
According to the Times, federal prosecutors have been investigating if Giuliani violated foreign lobbying laws by calling the White House's Office of Management and Budget and freezing $391 million in military aid to Ukraine. Giuliani has denied that he did this, but congressional witnesses have testified otherwise. Two of Giuliani's associates, Lev Parnas and Igor Fruman, whose phone call records were also included in the report from the House Intelligence Committee, were indicted in October for violating campaign finance laws and other infractions.
On Tuesday, the House Intelligence Committee released the 300-page report that included the records of Giuliani's calls, a day after House Republicans released their own impeachment inquiry report in which they argued against the impeachment process led by the Democrats. The Republicans wrote that the evidence presented in their report "does not prove any of these Democrat allegations."